Grease & Oil Removal: Thorough Provo Exterior Stain Cleaning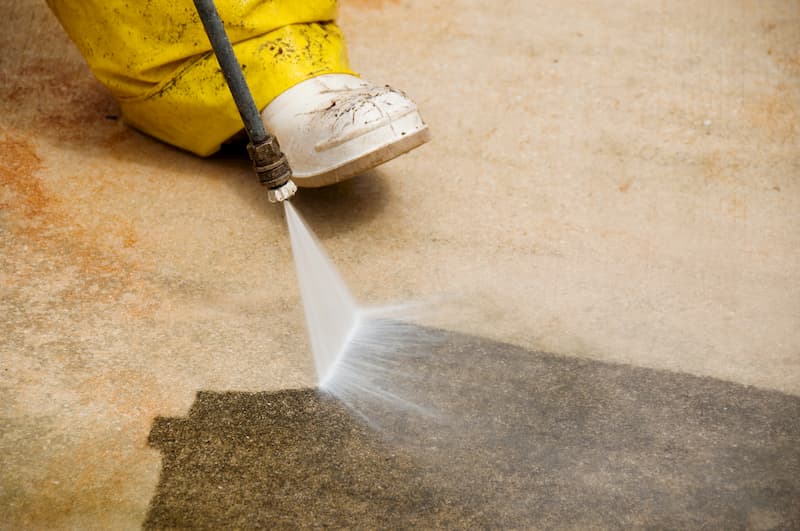 At Mountain West Pressure Washing, our commercial pressure washing company is here to help Provo business owners with the most difficult exterior property cleaning tasks. We specialize in grease & oil removal services which makes us the go-to team when it comes to parking lot and dumpster pad cleaning services. Our highly skilled experts are ready to assist you with this arduous task.
Our professionals are the premier team when it comes to commercial pressure washing for Provo and the surrounding areas. We have achieved this status by focusing on one single objective in every project that we take. Maximizing customer satisfaction is paramount and our highest priority.
During your grease & stain removal effort, our Provo commercial pressure washing team will not leave your property until we have exceeded your expectations. We know that by doing so, we will prove to you that you can trust us with all your future exterior property cleaning needs. After all, the success of your business is our success, and your mess is our mission.
Grease Stain Removal
Grease stains are some of the most difficult and frustrating problems when it comes to keeping a commercial property clean and well-maintained. Without the requisite knowledge, skill, equipment, and experience, they are practically impossible to remove. Our grease & oil stain removal pros are here to help with these uniquely stubborn issues.
One common area where grease stains are present is around dumpsters, particularly those on restaurant and high-density housing properties. Our dumpster pad cleaning experts can lift these stains for you. After our efforts, this area of your property will be properly maintained and sanitized. You, your employees, and your customers will be thoroughly pleased with the results.
Oil Stain Removal
Any area of a commercial property where motor vehicles are present is highly susceptible to oil stains. Oil stains can be immensely difficult to remove. Our Provo commercial pressure washing team has the knowledge and skill necessary to remove these stains for you.
During our routine parking lot cleaning efforts, our highly skilled grease & oil stain removal experts tailor our cleaning methods to the unique oil stains that are present. The cleaners that we use and the pressure setting that we select will lift and wash away oil from concrete or asphalt while protecting the underlying surface. You and your clients will be amazed by the exceptional results of our efforts.
Tell Grime to Take a Hike!
Call Mountain West Pressure Washing in Provo Today!