Experienced Commercial Pressure Washing Company For Draper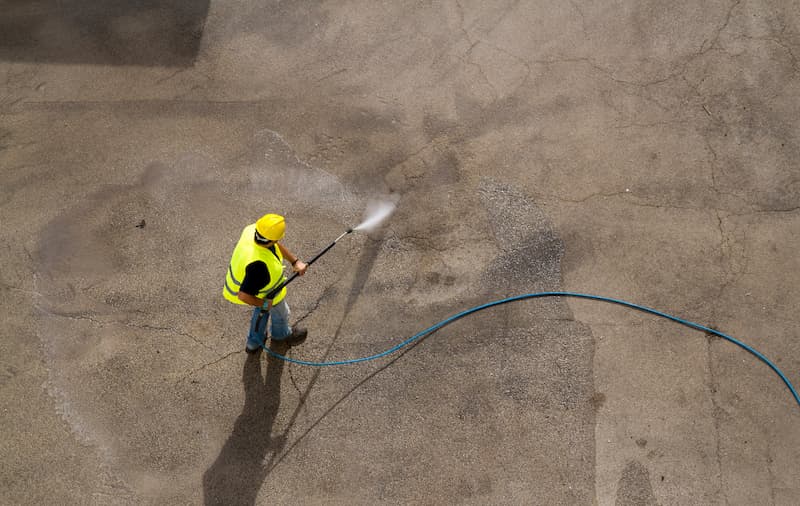 At Mountain West Pressure Washing, we are proud to be the premier commercial pressure washing team in Draper. We have the experience necessary to help your business succeed. With our assistance, your commercial property, apartments, or condominium complex will always look inviting and professionally maintained.
Our Draper commercial pressure washing crew places customer satisfaction as our highest priority in everything that we do. We promise not to leave your property until we have exceeded your expectations. Through the exceptional results that we achieve, we will prove to you that you can always trust us with your future commercial pressure washing needs.
From parking lot cleaning to grease and oil removal, our commercial pressure washing experts have the knowledge and experience to handle the most difficult tasks. You, your employees, your clients, and your tenants will all be amazed by the renewed beauty of your Draper property after our team has completed the job.
Parking Lot Cleaning Services in Draper
Parking lots are subject to hydraulic staining from vehicles. They collect litter and garbage from less considerate individuals. These stain sources occur in addition to regular wear and tear from exposure to weather, dirt, and biological growth.
Bottom line, keeping your parking lots clean is a challenging chore, to say the least. Our Draper commercial pressure washing team can handle this tough task for you. We specialize in parking lot cleaning services for all types of commercial properties.
Concrete Sealing Experts in Draper
As a Draper commercial property owner, you have an obligation to keep your business clean and well-maintained. Our commercial pressure washing team has the ability to assist you in both these responsibilities. Not only can we lift the most stubborn and stuck-on stains from concrete paved surfaces, but also, through our concrete sealing services, we can lock in this state of cleanliness and preserve it well into the future.
Draper's Dumpster Pad Cleaning Experts
One of the most difficult exterior property cleaning tasks is dumpster pad cleaning. This area of a commercial property is exposed to some of the worst conditions. It becomes stained easily, but even worse, it can become unsanitary and smelly if it is not professionally cleaned on a regular basis.
Our Draper commercial pressure washing experts are here to help. We have the knowledge, skill, and experience necessary to clean these areas for you quickly and easily. We can develop a routine dumpster pad cleaning schedule that works best for the unique needs of your Draper business.
Tell Grime to Take a Hike!
Call Mountain West Pressure Washing in Provo Today!